Turkey coup: military take over news channels
Comments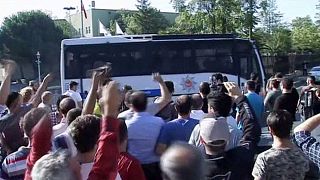 In a further sign that an attempted coup in Turkey was crumbling, busloads of soldiers surrendered to police earlier on Saturday at Turkish television channel TRT in Istanbul. The coup plotters had burst into the headquarters of the state-run broadcaster late on Friday, taking it off air.
In Ankara, TRT's offices were also seized and gunshots heard, as a presenter was forced to read a pre-prepared statement saying the military had fully seized control to protect democratic order. The announcement also accused the government of eroding Turkey's secular rule of law.
Turkish private broadcaster CNN Turk was also briefly halted during a live news broadcast early on Saturday as soldiers entered the studio control room.
The channel showed a live shot of its empty red and white studio
Video later released by the station showed soldiers walking into the building and up the stairs.
Both CNN Turk and TRT are now back on-air.