Turkey coup: mass arrests after uprising crushed, government says
Comments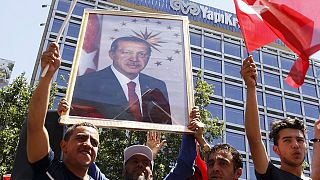 Almost 3000 soldiers, including high-ranking officers, have been arrested in Turkey after an attempted military coup.
More than 160 people, many of them civilians, are now confirmed dead – while over a 1000 others were wounded following overnight clashes, gunfire and explosions, principally in Turkey's major cities of Ankara and Istanbul.
President Recep Tayyip Erdogan has insisted his government is back in charge and promised to purge the armed forces of rebels.
The country's Prime Minister also denounced the coup plotters.
Flanked by senior ministers and the country's top general, Binali Yildirim described the events as a black stain on Turkey's democracy.
Yildirim also said legal changes would be considered to reintroduce the death penalty to deal with those responsible.
There were chaotic scenes late on Friday, both in the capital Ankara and Istanbul, as pro-government supporters heeded President Erdogan's call via a TV interview on his smart phone, and took to the streets to prevent soldiers and tanks locking down key positions.
For the moment it is unclear who was behind the coup.
The government has indirectly blamed US based cleric Fethullah Gulen. He has denied having anything to do with what now looks to be a failed uprising and said he condemned 'in the strongest terms' the attempt to topple the government.