No end in sight to Spanish political deadlock
Comments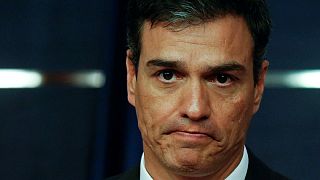 Spain's political deadlock has shown no signs of letting up after Socialist leader Pedro Sanchez reaffirmed his party would not back a government led by acting Prime Minister Mariano Rajoy's conservatives.
Although Rajoy's People's party won the most votes in the election on June 26, the country's second in six months, they fell short of a majority, and if alliances cannot be formed soon, the possibility of a third election will grow ever more likely.
Rajoy said that he would attempt to form a government if the king asked him to do so, but he is faced with a mammoth task in order to do so.
He must convince other parties to join his own or at least abstain from blocking the formation of a government.
"What I say is that the People's Party has had an increase in votes and seats and in the support of Spaniards. The People's Party should lead this government. I think it's democratic, sensible, reasonable and what has always happened," Rajoy said in a news conference after meeting Sanchez for almost an hour and 20 minutes.