Spain's political parties consider coalition, but not with Rajoy
Comments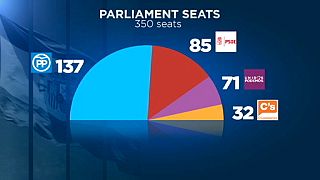 Mariano Rajoy's Popular Party may have won the most seats in Spain's second general election in a little over six months, but it still falls short of the 176 needed for an outright majority.
The acting Prime Minister finds himself in a remarkably similar situation to December and needs to find a coalition partner in order to form a government. Rajoy is hoping to do this within four weeks, but this could prove challenging considering the fragmented outcome of Sunday's vote.
As the result was announced, the PP leader announced "We have won the elections — we claim the right to govern."
The centrist Ciudadanos – or 'Citizens' Party has said it is open to a coalition with the Popular Party and the Socialists, but never with Rajoy at the helm.
The Socialists – which came in in second place – have also spoken out against him, and have declared they will not back his re-election.
Unidos Podemos, which had been expected to become the dominant left-wing power, underperformed.
Spain now faces another round of backroom talks amid increasing political uncertainty across Europe in the wake of the UK's decision to leave the EU.