Dallas shooter identified as former army reservist
Comments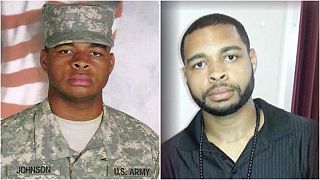 America has been stunned by the ambush of white police officers by at least one sniper
in Dallas, who hunted down and killed five police officers and wounded seven more along with two civilians.
In distressing images captured by a member of the public Micah Xavier Johnson, 25, a former army reservist who did one tour of duty in Afghanistan is seen running amok before being cornered by police and killed.
Attempted negotiations before his death failed, and he was killed with an explosive charge laid by a police robot, believed to be the first use of its kind of a device normally used to defuse bombs. He had no criminal record and no links with terrorist organisations.
The police had been guarding a Black Lives Matter protest march; indeed some posed with marchers before the shooting expressing mutual respect and praise for the orderly demonstration.
Let the record show. #Dallaspic.twitter.com/5r2oAH4MD8

— Matt Smethurst (@MattSmethurst) July 8, 2016
"The suspect said, he was upset about Black Lives Matter. He said, he was upset about the recent police shootings. The suspect said he was upset at white people. The suspect stated he wanted to kill white people, especially white officers," said Dallas Police Chief David Brown.
Despite Johnson's avowed aim to kill white police officers, at least one of his victims was Hispanic; police officer Patrick Zamarripa, who survived three tours of duty in Iraq only to die in Dallas.
Three other suspects are in custody being interrogated, and the FBI swept through Johnson's home just outside Dallas looking for any clues as to why he chose such an extreme course of action.