Protests continue across America against fatal police shootings
Comments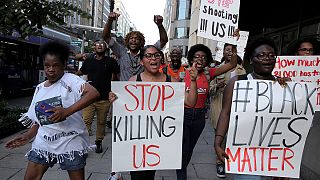 Across America, thousands took to the streets to protest against fatal police shootings of two black men this week.
The demos come a day after five police officers were killed during a similar rally in Dallas.
Atlanta saw the biggest crowds, with protesters calling for justice in the wake of the fatal shootings of Philando Castile and Alton Sterling.
In Washington DC demonstrators kicked off a weekend of action, as the police chief said at least six rallies were planned over the next two days. Activists hoped it would open up a national debate over race relations.
In New Orleans, three different protests took place. At the police department HQ demonstrators staged a die-in, in recognition of more than 100 black citizens killed by police in the last year.