From Ferguson to Dallas - the deaths of Afro-Americans at the hands of white police officers
Comments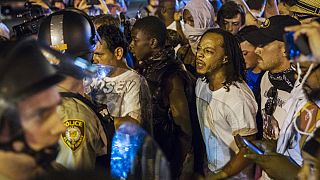 US President Barack Obama was visibly shocked when he took a stand on the deaths of the two Afro-Americans killed just a few days ago by white policemen.
"We have seen tragedies like this too many times. Last year, African-Americans were shot by police at more than twice the rate of whites. When incidents like this occur, there's a big chunk of our fellow citizenry that feels as if because of the colour of their skin they are not being treated the same," he said.
The incident sparked anti-racism protests in several US-cities. According to the US-President, African Americans are 30% more likely than whites to be pulled over and they are three times more likely to be searched.
On Wednesday, an officer in Falcon Heights shot an African American man during during a traffic stop. Philando Castile later died at a Minneapolis hospital.
His girlfriend had filmed the incident in the car and put it on Facebook which caused an outrage. According to the Minnesota Governor Mark Dayton race did play a role in the death of Castile.
The incident came less than 48 hours after another high-profile police shooting in Baton Rouge, Louisiana. Two white officers pinned Alton Sterling to the ground outside a convenience store. Just like in the Minnesota-shooting, the event was captured on video and went viral.
In the past, anger has intensified even more when the officers involved in such incidents have been acquitted in trials or not charged at all.
That was the case in a killing in Ferguson. Two years ago, a white police officer shot the unarmed black teenager Michael Brown several times. The officer was not incriminated. It triggered a series of violent protests as cars were burnt and shops looted.
It remains unclear if there are any direct links with the shootings in Dallas.