Clinton and Trump react to Dallas police sniper attack
Comments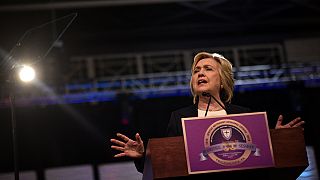 The stars and stripes fly at half-mast over the White House, as America comes to terms with the violence of the past week.
President Obama will cut short his European trip to visit Dallas where 12 police officers were shot, five of them died in an ambush.
The presumptive presidential nominees for the major parties postponed campaign events on Friday, but did not remain silent on the matter. Clinton pledged to, "bring law enforcement and communities together, to develop national guidelines on the use of force of police officers. We will make it clear for everyone to see when deadly force is warranted and when it is not."
Republican nominee Trump said, "A brutal attack on our police force is an attack on our country, and an attack on our families," and added he would "make America safe again".
Civil rights activist Jesse Jackson pointed to Trump and his supporters for stoking a climate of fear. While condemning the killing of Dallas police, he urged Americans to continue to confront the issues dividing the country.
"The attack on the officers was a cowardly and insane act of terrorism, and in no way represents anything about our long term struggle for peace and justice for all. While we mourn the brave police officers of Dallas, we must not be derailed from the struggle to end the plight of black men being executed, Louisiana and Minnesota style. Too much violence, too much fear, make all of us less secure."