Leave campaign seeks the "undecided" voter ahead of poll
Comments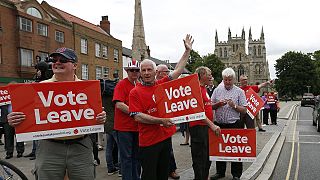 Leave campaigner Boris Johnson spent the 24 hours before polls open in Britain's EU referendum, going the length and breadth of England trying to persuade that elusive 'undecided voter'. Johnson knows that with the outcome in the balance every ballot counts.
People will have a chance tomorrow to take back control of our democracy

Former London Mayor and MP
Boris Johnson addressing supporters in Selby: "Who elected those people (EU leaders)? Nobody elected them. Do we want to be sucked into a federal super-state like that? No! We absolutely don't!"
23 hours 26 mins until EU referendum polls close #TakeControl#c4debatepic.twitter.com/XZV3pZA87S

— Steve Baker MP (@SteveBakerHW) June 22, 2016
It's out last chance to take back control, said the former London Mayor who is a favourite to replace David Cameron in the event of a Brexit.
"I think the people of this country have got an historic choice tomorrow. Do you think we can do it? Asked Johnson."Yes" came the response from supporters in Darlington.
Fellow Leave campaigner Justice Secretary Michael Gove drove home the message of saving Britain's democracy casting Brussels as domineering and out of touch.
"Ultimately people will have a chance tomorrow to take back control of our democracy and I think that is a very very powerful argument that's resonating with people here in Portsmouth," he said.
Roger Daltrey on why he's voting to Leave in EU Referendum https://t.co/hKXdOVMZ9V

— Mike Hookem

MEP

(@MikeHookemMEP) June 22, 2016
In the end much of the debate has boiled down to two issues: the economy and immigration but as one voter said "I'll decide when I'm in the voting booth."
RETWEET: Sir James Dyson says UK businesses will prosper after we #TakeControl tomorrow pic.twitter.com/v0Ya7oXtwM

— Vote Leave (@vote_leave) June 22, 2016
Latest polls
Opinion polls in the run-up to the referendum have suggested the outcome is too close to call.