"Leave" campaigners beat the streets in the UK
Comments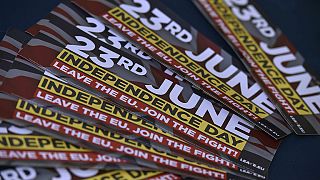 Boris Johnson began his final day of campaigning with a dawn visit to the iconic Billingsgate fish market in London.
The figurehead of the "Leave" campaign urged voters to "believe in our country" and leave the European Union.
This morning BorisJohnson</a> paid a visit to Billingsgate Fish Market - strong support for <a href="https://twitter.com/hashtag/VoteLeave?src=hash">#VoteLeave</a>! <a href="https://twitter.com/hashtag/ProjectHope?src=hash">#ProjectHope</a> <a href="https://t.co/pPfVTpXqma">pic.twitter.com/pPfVTpXqma</a></p>&mdash; Vote Leave (vote_leave) June 22, 2016
This is the final push to win backing for the "Leave" vote in the British referendum that will decide whether the country remains a member of the EU.
What Boris said
"It is our last chance to sort this out, to take back control. If we don't vote to leave tomorrow, we'll remain locked in the back of the car, driven in an uncertain direction, frankly to a place we don't want to go and perhaps by a driver who doesn't speak the very best of English."
"It is our last chance to take back control of so much that matters in our lives."
The EU has "changed out of all recognition from what we signed up for in 1972."
"It is turning into a single country, the United States of Europe."
He is "pro-immigration" but the politicians have an obligation to control it "and at the moment, because of the EU system, we can't."

What Nigel said
Brexit campaigner Nigel Farage has also been out on the stump on Wednesday.
This is one vote that can really change things. Vote for your country. Vote to Leave EU.https://t.co/GNiAvBYBL8

— Nigel Farage (@Nigel_Farage) June 22, 2016
"Let's stop pretending what this European project is. They have an anthem, they are building an army, they have already got their own police force and of cause they have got a flag."
"At the end of the day tomorrow when people vote they must take a decision: which flag is their's? And I want us to live under British passports and under the British flag!"
When is the vote?
Four months of frenetic and increasingly divisive campaigning come to an end on Wednesday.
Britain goes to the polls on Thursday 23 June to decide whether to stay in the 28-nation organisation.
More than 46 million people are eligible to vote in the referendum – a record number for a national poll.