'Out is out': Europe issues a stark warning to the UK ahead of the Brexit referendum
Comments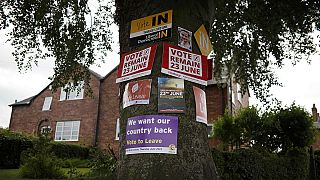 European Commission President Jean-Claude Juncker has issued a stark warning to the United Kingdom on the eve of the referendum on its EU membership.
Out is out.

President of European Commission
Whatever the outcome of the vote, the UK has received the most it ever will from the 28-member bloc, he advised.
"There will be no kind of… any renegotiation. We have concluded the deal with the prime minister. He got the maximum he could receive and we gave the maximum we could give, so there will be no kind of renegotiation. Out is out."
It came as British Prime Minister David Cameron said he would push for more reforms on freedom of movement.
French President François Hollande was equally firm on his country's stance on a UK departure from the Union.
"If the outcome is to leave the EU, France's position in the aftermath of this referendum would be to draw the right conclusion and to consider this vote as the departure of the UK from the EU. And that would be irreversible."
He announced he would be in Berlin on Wednesday (June 29), whatever the result, to work on rebuilding Europe.
Turkey, meanwhile, has protested about being repeatedly referred to in the referendum campaigns.
Foreign Minister Mevlut Cavusoglu said it was wrong to use the country's status as a candidate for EU membership as an argument in the run-up to the vote.
"Turkey has never been a burden on the EU," he told a press conference in Ankara.
Cavusoglu used the occasion to push for the UK to remain in the EU, saying Turkey believed the bloc would be stronger in that case.