Orlando shooter - 'a home grown extremist'
Comments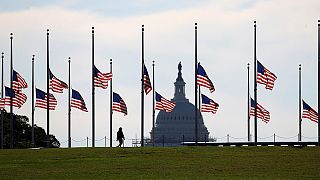 US authorities say they have found no direct links between ISIL militants and the gunman who killed 49 people at a gay nightclub in Orlando. Instead they are describing him as a home grown extremist who may have been inspired by radical Islamist groups.
This is a devastating attack on all Americans

US President
At the same time ISIL has reiterated its claim of responsibility although it has offered no signs to indicate coordination with the Omar Mateen.
As Relatives of the victims of the atrocity search for answers, a family and friends assistance center has been set up in the centre of Orlando.
President Obama will also travel to Orlando on Thursday to pay his respects.
Speaking at the White House the president said Sunday's attack could have happened anywhere:
"This is a devastating attack on all Americans. It is one that is particularly painful for the people of Orlando, but I think we all recognize that this could have happened anywhere in this country.
We are also going to have to have to make sure that we think about the risks we are willing to take by being so lax in how we make very powerful firearms available to people in this country."
On Monday Congress in Washington joined the rest of the country in paying its respects to the Orlando victims by holding a minutes silence.
Vigils have been held as a mark of support across the United States .
Hope, Love, and Light rise following Orlando tragedy, from inside theme parks and beyond: https://t.co/YRLEQoCxDjpic.twitter.com/oXHQF1tuI1

— Inside the Magic (@InsideTheMagic) June 14, 2016
Hundreds attend #Charleston rally for #Orlando massacre victims. https://t.co/MNaYDiMRA8#OrlandoStrong#chsnewspic.twitter.com/RusdE4WTPu

— The Post and Courier (@postandcourier) June 14, 2016