Leaders 'influenced Putin' over Savchenko release, say Ukraine pilot's lawyers
Comments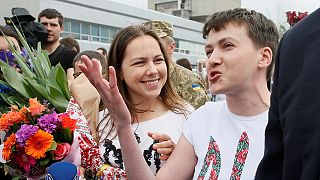 Lawyers for Ukrainian pilot Nadiya Savchenko, who was freed in Russia and brought home to Kyiv on Wednesday, have said they were not informed in advance about the prisoner exchange with two Russians who had been held in Ukraine.
According to her representatives at a news conference on Thursday, the move was agreed the night beforehand in a phone conversation between leaders from the so-called Normandy format – France, Germany, Russia and Ukraine – charged with resolving the conflict in eastern Ukraine.
"You know, she didn't want to come back (to Ukraine) by receiving a pardon. That was her decision. She sent us special papers banning her release by pleading pardon. The crucial role (in releasing Savchenko) was played by Putin. But it was the four Normandy leaders who influenced him," said Mark Feygin, Savchenko's defence lawyer.
Savchenko had been jailed in Russia for complicity – she denied it – in the deaths of two Russian journalists killed by artillery fire while covering the conflict.
She returned home to a hero's welcome.
"There will be intentions among politicians and parties to 'privatize' Savchenko. While staying in Russia, she became a symbol of Ukrainian stamina and patriotism. All this has formed great political capital for Nadiya Savchenko. And someone will try to use it!" said political analyst Volodymyr Fesenko.
Euronews correspondent Maria Korenyuk reported from Kyiv:
"The release of Nadiya Savchenko took place just before the G7 meeting started. One of the key topics at the summit is the issue of sanctions against Russia. However, the G7 leaders have already said: the release of the Ukrainian pilot is not enough to ease sanctions. They can be lifted only if the Minsk agreements (to resolve the conflict in the Donbas region) are fully implemented."