Russia says Savchenko exchange deal was not linked to Minsk accords
Comments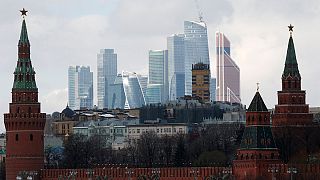 The handover of Nadiya Savchenko in return for two Russian prisoners who were flown back to Moscow was cast as a humanitarian gesture by Vladimir Putin.
Moscow has strongly rejected any suggestion that the exchange was connected to the Minsk agreements.
One of the key terms struck in the Belarusian capital was the release of all hostages and other illegally detained people.
"It's a myth, which is being spread for unclear reasons, that the Savchenko case and the exchange of the Ukrainian citizen for the citizens of the Russian Federation is in relation or a part of the Minsk agreements. It's a myth. It is not true," Russian Foreign Ministry spokeswoman Maria Zakharova said at a news briefing on Thursday.
She added that what she called Kyiv's aggressive statements had soured hopes that the Minsk agreements would be implemented.
A Kremlin spokesman said on Thursday that President Putin had consistently expressed his willingness to improve ties with the European Union – but Savchenko's release was unlikely to make the task easier.