Russians jailed in Ukraine return to Moscow in Savchenko exchange deal
Comments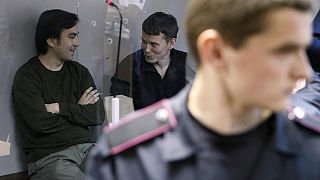 In contrast to the rapturous scenes in Kyiv amid the return of freed Ukrainian servicewoman Nadiya Savchenko, it was a private welcome at Moscow's Vnukovo airport for the two Russians freed by Ukraine.
There was only a small media presence as Alexander Alexandrov and Yevgeny Yerofeyev were reunited with their wives.
They had recently been sentenced in Ukraine to 14 years in jail after being convicted on charges of waging war and terrorism.
Last year they told Reuters they were Russian special forces soldiers and had been captured while on a secret mission in eastern Ukraine. Moscow, which has never acknowledged that it sent Russian forces across the border, has insisted the pair were not on active duty at the time.
The two Russians have been pardoned by President Poroshenko. While in Kyiv, they had accused Moscow of disowning them.
Alexandrov's mother, Zinaida, told Reuters by telephone on Wednesday: "I'm glad, I'm very happy. I hope that everything will be okay for him, I really want to see him."
Vladimir Putin has spoken of the decision to pardon Nadiya Savchenko, during a meeting with relatives of the two Russian journalists whose deaths were partly blamed on the Ukrainian servicewoman.
The Russian president said he acted after the relatives asked him to show mercy to the convicted Ukrainian servicewoman.
"I only wish to thank you for this position and express hope that this decision taken on humanitarian considerations will help reduce tensions in the conflict zone," Putin said.
German Foreign Minister Frank-Walter Steinmeier said in a statement that he hoped Savchenko's release "will help build trust between Ukraine and Russia".
Russia's relations with its neighbour and fellow ex-Soviet republic Ukraine have been toxic since an uprising in 2014 forced out the Moscow-backed Ukrainian leader Viktor Yanukovych and installed a pro-Western administration.
Russia then annexed Ukraine's Crimea Peninsula. Moscow said it was protecting the local Russian-speaking population from persecution by the new authorities in Kiev. Western governments called it an illegal land-grab and imposed sanctions on Moscow.
Soon after, pro-Moscow separatists began an armed rebellion in the Donbas region of eastern Ukraine, an area with a large Russian-speaking community. Fighting between the rebels and Ukraine's forces killed thousands of people.
A fragile ceasefire has been in place since last year, but a permanent settlement to the conflict remains elusive.
The exchange deal, which could help ease tensions between Russia and the West, comes several weeks before the European Union is due to decide on whether to extend sanctions against Russia.