Hero's welcome for Ukraine pilot Nadiya Savchenko after Russia prisoner swap
Comments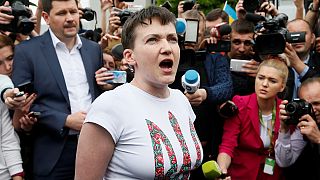 Ukrainian military pilot Nadiya Savchenko arrived home to scenes of jubilation on Wednesday after her release by Russia in a prisoner swap and she promptly offered to fight again for Kyiv in its conflict with pro-Russian separatists.
Savchenko's handover, in return for two Russian prisoners who were flown home to Moscow – had been demanded by the West and was cast as a humanitarian gesture by Russian President Vladimir Putin a few weeks before the European Union decides whether to extend sanctions against Russia imposed over its support of the rebels.
Savchenko, 35, barefoot – it was unclear why – and wearing a T-shirt depicting the Ukrainian coat of arms, emerged from the terminal at Kyiv's Boryspil airport to cries of "hero" from a crowd of supporters, among them her sister and mother.
'I survived despite you!'
"Huge thanks for fighting for me. I thank everyone who wished me well. Thanks to you I survived. To those who wished me ill, I survived despite you!" she shouted.
"I can't revive the dead, but I am always ready to lay down my life on the battlefield for Ukraine. And I will do everything possible for every person in captivity to be freed."
She was captured in 2014 while fighting with Ukrainian forces against pro-Moscow separatists in eastern Ukraine. She was handed over to Russia, found guilty of complicity in the deaths of two Russian journalists who were killed by artillery fire while reporting on the conflict, and sentenced to 22 years.
Comparing the saga to Lord of the Rings, one of her lawyers said she had been "freed from the jaws of Mordor".
Poroshenko's pledge
Savchenko's defiance, which she had also displayed in court in Russia, was echoed by her supporters as she left the airport for the presidential palace.
There, she appeared on television alongside Petro Poroshenko.
"In the same way we brought Nadiya back, we will also bring back the Donbas region and we will bring Crimea under Ukrainian sovereignty," the Ukrainian president said.
Savchenko, a military pilot, had volunteered to fight with a ground unit against the separatists in eastern Ukraine.
At her trial in southern Russia, she was accused of acting as an artillery spotter, calling down the fire that killed the journalists. She denied this.
While in custody in Russia, Savchenko was elected a member of the Ukrainian parliament. Now she was awarded the title of "hero of Ukraine".
The former pilot is a symbol of resistance against Russia, whose denials of involvement in eastern Ukraine are disbelieved by NATO and many others in the West.