Syrian army announces 48-hour 'regime of calm' in Aleppo
Comments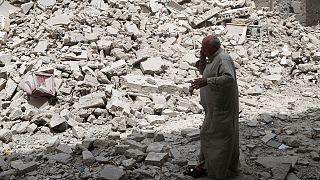 The Syrian army has announced it is implementing what it calls "a regime of calm" in the city of Aleppo for 48-hours.
It follows intense discussions between the US and Russia in a bid to stop hostilities between Syrian rebels and government forces.
US Secretary of State John Kerry and EU Diplomatic Chief Federica Mogherini gave the following up date:
"Since then, we've seen an overall decrease in the violence in those areas, even though there are some reports of continued fighting in some locations, which does not surprise us because it only went into effect one minute after midnight and we have to communicate and we are working at that process of communication," said Kerry.
Federica Mogherini, Vice president and high representative of the European Union for Foreign Affairs and Security Policy, added:
"The European Union will continue to work on the ground for the delivery of humanitarian aid and obviously to work together also on the talks in Geneva to start with some substance that allows a transition and a change in governance.
Aleppo has been the scene of the worst surge in fighting in recent days, wrecking the first major ceasefire of the five-year old civil war.
It is a divided city, which is partially under rebel control. According to state television, the army blames the insurgents, which it has labelled "terrorists," for the deaths of dozens of civilians from rocket and mortar attacks launched from the rebel-held part of Aleppo.
An earlier partial truce had specifically excluded Aleppo which the Syrian Regime sees as a key city for army supply lines.
However the constant bombardments have killed scores of civilians and caused an international outcry.
It is not clear what action the armed forces will take in response to violations to the "regime of calm."