Europe responds to Syria's spiralling crisis
Comments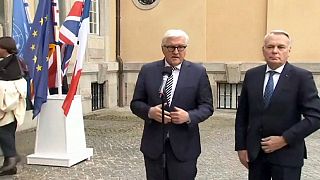 The regime in Damascus bears the entire responsibility for what is happening there
The US and Russia have had their say, as diplomats have pursued a week of shuttle diplomacy linked to the spiralling crisis in Syria, particularly the city of Aleppo.
Now it is the turn of the major European powers to play their part in resolving the Syrian crisis.
In Berlin, the German and French foreign ministers are meeting UN envoy Staffan de Mistura and Riad Hijab from the Syrian opposition.
The guest list
German Foreign Minister Frank-Walter Steinmeier
French Foreign Minister Jean-Marc Ayrault
UN envoy Staffan de Mistura
Syrian opposition figure Riad Hijab
What will they discuss?
Diplomats say the talks are aimed at promoting peace negotiations, bring an end to the violence and improve the humanitarian situation.
What has Steinmeier said?
Every effort has been made to de-escalate the situation in Syria
There can be no military solution to the
crisis.
What has Ayrault said?
The Syrian regime bears the full responsibility for breaking the ceasefire in Aleppo
Called a May 9 meeting in France of 10 countries involved in the ceasefire talks
"What is happening in Aleppo is a tragedy," he told reporters. "It is an appalling situation. The regime in Damascus bears the entire responsibility for what is happening there, the number of victims and for putting the ceasefire at risk."
Hasn't the Arab League come out with a strong statement as well?
Yes.
The Arab League has condemned the surge in violence in Aleppo and the attacks on Syrian civilians as crimes against humanity.
Arab League to convene emergency meeting on #Aleppohttps://t.co/Z6tb95TkRCpic.twitter.com/kYLNKhG0yK

— Yeni Şafak English (@yenisafakEN) May 1, 2016
At an emergency session in Cairo on Wednesday, the Secretary General called for those responsible to be brought to "international justice."
Syria in numbers
Five-year conflict
270,000 (at least) killed
6.6m internally displaced
4.7m in neighbouring countries
+1m (at least) in EU
There has been a surge in violence in Syria's second city in the last few weeks.
At least 270 people have reportedly been killed in fighting there since April 22.
In tweets
Behind the scenes: FM #Steinmeier preparing himself for today's #Syria talks in #Berlin. #SyriaDiplomacypic.twitter.com/dZIa2J6RWV

— GermanForeignOffice (@GermanyDiplo) May 4, 2016
Kerry warns Assad as #Syria truce talks shift to Berlin https://t.co/HoUcTdotQjpic.twitter.com/1qkG85LLxX

— The Straits Times (@STcom) May 4, 2016