Ireland election: party leaders cast their ballots
Comments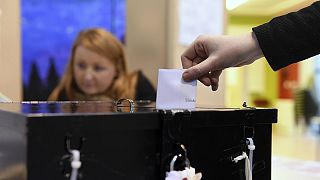 Irish Prime Minister Enda Kenny cast his vote in Castlebar, County Mayo on Friday, as Irish voters went to the polls in an election that polls suggest could end in political stalemate.
Your friends and family need to know that the choice today is a critical one. Polls are open until 10pm #ge16pic.twitter.com/d8dzOgQDH7

— Enda Kenny (@EndaKennyTD) February 26, 2016
The last polls, published on 23 February, suggested that the ruling coalition – a team-up between Kenny's Finna Gail and the Labour party – will fall short of a majority.
Thus, fears have been raised about political limbo after the election – or the possibility an precedented team up between Finna Gail, and leading opposition party Fianna Fail led by Michael Martin.
We're voting for an Ireland for all – make your voice heard in #GE16pic.twitter.com/MKjXfGUUZY

— Micheál Martin (@MichealMartinTD) February 26, 2016
Martin, who cast his vote on Friday in Cork, was part of the Irish government that was in power in 2008 – when the economy crashed spectacularly.
The Irish economy has finally returned to growth, but the tough austerity measures – which Kenny's government argues are necessary to sustain the recovery – remain deeply unpopular with large swathes of the electorate.