Ireland election: high risk of political stalemate - polls
Comments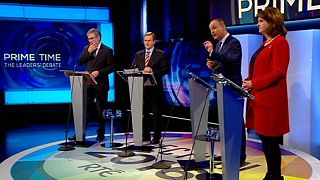 Ahead of Ireland's general election on Friday (26 February), polls were suggesting a result likely to lead to political stalemate, raising concern about the country's economic recovery.
The leaders of the four main political parties – Irish Prime Minister Enda Kenny (Fine Gael), Micheal Martin (Fianna Fail), Gerry Adams (Sinn Fein), and Joan Burton (Labour) – took part in the final TV debate of the election campaign, days ahead of the vote.
The latest poll, published by Red C-Paddy Power, showed that none of the governing parties or blocks were likely to win a majority, highlighting the risk of a hung parliament.
Poll results – Red C-Paddy Power (23 February):
Fine Gael: 30 percent
Fianna Fail: 20 percent
Sinn Fein: 15 percent
Labour: 7 percent
Support for Fine Gael remained at 30 percent, while coalition partner Labour was down to just seven percent. Analysts say the two parties would need close to 45 percent to secure a majority of seats.
Kenny, prime minister since 2011, has been campaigning on a platform of job creation and tax reduction.
Fine Gael is the only party that you can rely on to provide the stability needed to keep the recovery going #ge16pic.twitter.com/vyZ5qiMe3g

— Enda Kenny (@EndaKennyTD) February 24, 2016
After crashing in 2008, the Irish economy has begun to turn around, but austerity measures remain deeply unpopular.
During the TV debate, Sinn Fein leader Gerry Adams argued that his party was offering the only real alternative for voters.
"Everything that is wrong with our society now is a result of decisions taken by the three people to my left. Michael (Martin) did drive the bus over the cliff and now he wants the keys back to get into the bus again," Adams said.
Final canvass of #GE16 – remember not voting is not an act of defiance, it's a surrender #VoteSinnFein#BetterWithSFpic.twitter.com/3KUePAs4U6

— Sinn Féin (@sinnfeinireland) February 25, 2016
Once hailed as the 'Celtic Tiger', the Irish economy boomed in the run-up to the 2008 financial crisis – which burst Ireland's property bubble, leaving its banks with unsustainable debts and the government with a ballooning deficit.
Ireland entered into an international bailout programme in 2010. It exited the programme in 2013 – the first eurozone bailout country to do so.
The dramatic collapse of the Celtic Tiger happened under the government of Fianna Fail.
Speaking during the TV debate, Fianna Fail leader Michael Martin said his party remained qualified to run the country. "We did make mistakes, but we learnt from those mistakes."