Austria goes ahead with controversial migrant quota plan
Comments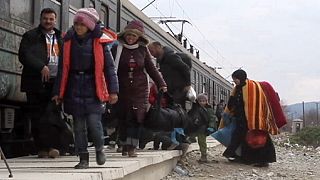 Austria has gone ahead with its plan limiting the number of migrants and asylum seekers entering the country, in defiance of the EU and other member states.
Vienna has said it will accept only 3,200 migrants crossing the border and passing through its territory each day, and only 80 asylum claims on Austrian soil.
The daily limits are seen as undermining the quest for a joint EU solution – but Vienna now says it may have to introduce even stricter limits.
"In the future, we will again have to lower the daily quotas," Austria's Interior Minister Johanna Mikl-Leitner said on Friday.
At the European summit in Brussels, the Austrian Chancellor encouraged other countries to imitate his government's plan.
"If every country would take the decision of limiting the migrants, so the equivalent of 37,500 people (a year) related to their own population, we could then spread out more than two million, so I think we can't go further than that with good will, or you have to say you send us all of them. But that is not going to work," Werner Faymann told reporters outside the European Council building.
He went on to offer a staunch defence of Austria's humanitarian stance in the past.
"We are a country which always thought in a European way, which offered help when there was help needed – in the Hungarian crisis, in the Yugoslav crisis. Last year we took care of 90,000 migrants. We didn't say 'this year we are taking no migrants' – but this year we are just taking 37,500 migrants. Now it is the others' turn."
Last year's intake of 90,000 represents more than one percent of Austria's population of 8.5 million.
#Austrian decision to cap number of #asylumseekers and wave them on to neighbours is a blow to #Germany.https://t.co/2cmsSvBk6X

— EUobserver (@euobs) February 19, 2016
Alexis Tsipras of Greece and Germany's Angela Merkel – both of whose countries are deeply embroiled in the migrants issue – met on the sidelines of the summit, joined by the French President François Hollande.
Germany has said it views Austria's plan to cap migrants with scepticism, questioning whether it's within EU law.
On Thursday the European Union expressed its disapproval, with both the Commission President Jean'Claude Juncker and the EU's migration chief saying the Austrian plan was illegal.
Countries in the Balkans have indicated they'll follow Austria and close their borders to new migrants, raising the possibility that Greece may be more inundated even more than it is now.
Greece meanwhile is reported to have threatened not to sign off on the EU's summit's conclusions unless it receives assurances that EU states will not close borders over the migrant crisis.
[Ticker] #Greece to block #EU summit conclusions over border issue. #EUCO – https://t.co/puY1i5aHEK

— EUobserver (@euobs) February 19, 2016
On Thursday police chiefs from Balkan countries agreed to organise the joint transfer of migrants directly to Austria from the border between Greece and the Former Yugoslav Republic of Macedonia.
Although bad weather meant Austria's main border crossing at Spielfeld had received no new migrants since early on Thursday afternoon, the flow is not expected to stop.
One diplomat said 10,000 – 15,000 new arrivals were arriving in Europe via the Balkans route each week. The International Organisation for Migration estimates that more than 84,000 people have arrived by sea onto EU territory since the start of the year.
Despite EU criticism, Austria's new daily cap on asylum seekers today entered into force. Background: https://t.co/KHM7avgo2h#EUCO

— Georgi Gotev (@GeorgiGotev) February 19, 2016