Migrants: Germany not happy with Austria's quota
Comments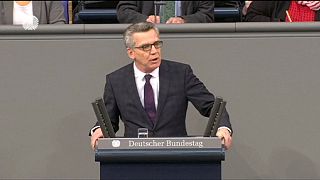 Germany "sceptical" about Austrian plan
Berlin thinks Vienna may be in violation of EU law
The news
Germany says it views Austria's plans to introduce a daily cap on the number of migrants entering its territory with scepticism.
We want to see how it will work in practice. We will be watching.
Berlin has also suggested the measures may be in violation of European law.
Thomas de Maizière bei der Bundestagsdebatte zum Asylpaket II in Berlin: pic.twitter.com/DjF00Tf7bv

—

ZDF

heute (@ZDFheute) February 19, 2016
The country's interior minister has warned fellow European leaders not to take unilateral measures against arriving migrants.
Thomas de Maiziere said Germany will continue to fight for a European way out of the refugee crisis as long as it also promises to be successful in diminishing the number of refugees.
"However, should some countries try to unilaterally shift the collective problem onto the back of Germany, it would be unacceptable and would not be without consequences from our side in the long run," he continued.
He also said Germany would deal "more harshly" with migrants who claim asylum but in reality have come for economic benefits.
Germany, the EU's largest and most dynamic economy, took in 1.1 million migrants last year.
What they are saying
"We view this with a certain scepticism, I can't deny that. We want to see how it will work in practice. We will be watching." – Tobias Plate, German interior ministry spokesperson.
"We will continue to fight for a European way out of the refugee crisis as long as it also promises to be successful in diminishing the number of refugees." – Thomas de Maiziere, German Interior Minister