Julian Assange warns of 'consequences if detention continues'
Comments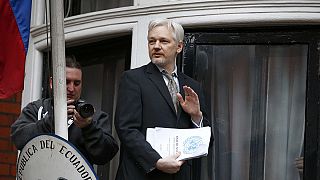 Julian Assange has hailed the United Nations panel's decision that he is being arbitrarily held "a victory of historic importance."
"How sweet it is. This is a victory that cannot be denied. It is a victory of historical importance, not just for me, for my family, for my children, but for the independence of the UN system," he said.
'Consequences'
The Wikileaks founder appeared on the balcony of the Ecuadorian embassy in London to call on the UK and Sweden to allow him to freely leave the building.
Any move to hold him there would be a violation of the Convention Against Torture (CAT), he told the crowd below.
"If this illegal, immoral unethical detention continues, there will be criminal consequences for the parties involved, and those consequences can be taken in any state because the CAT (Convention against Torture) has universal jurisdiction."
"The UN last night issued a statement stating that the determination is legally binding," he said.
UN deems the deprivation of liberty of Julian #Assange unlawful—full doc: https://t.co/C5moqbA9an#UN4JApic.twitter.com/d7VrmoxaD1

— WikiLeaks (@wikileaks) February 5, 2016
Findings 'change nothing'
However, the UK Foreign Office claims the panel's findings "change nothing."
"There have been comments from Philip Hammond, the Foreign Minister of this country, today, saying 'this changes nothing.' […] We must understand that those comments are merely rhetoric. There is no argument in "this changes nothing." It is not stating that the UK will pull out of the working group in its determinations, or the Human Rights Council, or even that it refuses to recognise the result," Assange told the crowd.
The 44-year-old Australian national claimed asylum in the embassy three-and-a half years ago to escape extradition to Sweden over accusations of sexual assault.
Assange has always denied the allegations against him.
Ecuador's London embassy, the place where WikiLeaks founder Julian Assange has been holed up since June 2012. #AFPpic.twitter.com/JLdS9Blauf

— Aurelia BAILLY (@AureliaBAILLY) February 5, 2016
Extradition
Britain maintains it is legally obliged to arrest and extradite the Australian national if he leaves the embassy while a European Arrest Warrant is in place.
Wikileaks is under investigation in the US. Assange claims if he is forced to go to Sweden to face trial, Washington will take steps to have him extradited.
[no comment] Julian #Assange appears on balcony of Ecuadorian Embassy https://t.co/ATl4vDSIKJ

— no comment TV (@nocomment) February 5, 2016