Wikileaks founder Assange 'arbitrarily' detained - UN panel ruling
Comments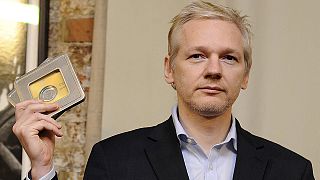 Wikileaks founder Julian Assange should be allowed to walk free and paid compensation, a UN panel has ruled.
Assange claimed asylum at the Ecuadorian Embassy in London in 2012 to avoid extradition to Sweden. He is wanted there for questioning over rape allegations, which he denies.
He appealed to the UN, saying he was a political refugee whose rights were being infringed by being unable to take up asylum in Ecuador.
A statement from the UN Office of the High Commissioner for Human Rights (ONCHR) Working Group on Arbitrary Detention said:
"The Working Group on Arbitrary Detention considers that the various forms of deprivation of liberty to which Julian Assange has been subjected constitute a form of arbitrary detention.
"(It) maintains that the arbitrary detention of Mr Assange should be brought to an end, that his physical integrity and freedom of movement be respected, and that he should be entitled to an enforceable right to compensation."
The Working Group's decision was not unanimous. Five members of the panel supported a devision in Assange's favour, one member disagreed and another recused herself.
The lone dissenting opinion in the UN Assange judgement is a prosecutor from Ukraine.

— WikiLeaks (@wikileaks) February 5, 2016
Christophe Peschoux, Chief of section of the Special procedure branch at the OHCHR on Friday explained:
"A detention can be legal, all the existing legal procedure may have been implemented, and still be arbitrary. And in this case the Working Group has decided that the detention may be legal, but it is arbitrary."
The UK has always said Assange would be arrested if he set foot outside the embassy.
"This changes nothing. We completely reject any claim that Julian Assange is a victim of arbitrary detention. The UK has already made clear to the UN that we will formally contest the Working Group's opinion," a government spokesman said on Friday.
The Swedish government has also rejected the UN panel's conclusion, stressing that Assange entered the Ecuadorian Embassy voluntarily.
"Swedish authorities have no control over his decision to stay there. Mr. Assange is free to leave the Embassy at any point," the government said in a statement.
Looks like it's confirmed. https://t.co/FKw6SY84to

— Edward Snowden (@Snowden) February 4, 2016