Assange hails UN's decision 'a significant victory'; UK disagrees
Comments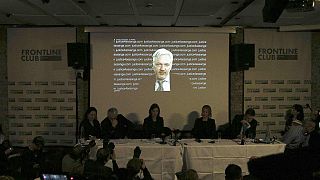 Julian Assange has hailed the United Nations panel's decision that he is being arbitrarily held "a significant victory."
The Wikileaks founder has called on the UK and Sweden to apply the ruling, which his lawyers and the UN have both said is legally binding.
Christophe Peschoux of UN Human Rights said "The decision is indirectly, but still legally, binding."
#Assange detention case: Clarifications on whether the #UNWGAD opinion to be issued tomorrow is legally binding pic.twitter.com/BGUJEzoJn3

— UN Human Rights (@UNHumanRights) February 4, 2016
'Fugitive from justice'
However, the UK Foreign Office claims the panel's findings "change nothing."
"I have read this morning the comment of UK Foreign Minister Philip Hammond insulting the United Nations, calling a decision — which I doubt very much that he has read — "ridiculous." I find those comments beneath the stature that a foreign minister should express in this situation," Assange told the press via video link from the Ecuadorian embassy.
LIVE: Assange press conference on UN victory https://t.co/dBYWCZ7Q8Bhttps://t.co/GFEgdYa8dm

— WikiLeaks (@wikileaks) February 5, 2016
Hammond has called Assange a "fugitive from justice" and the Foreign Office says it will "formally contest the working group's opinion."
Legal obligation to extradite Assange
Britain maintains it is legally obliged to arrest and extradite the Australian national if he leaves the embassy while a European Arrest Warrant is in place.
The 44-year-old claimed asylum in the Ecuadorian embassy in London three-and-a half years ago to escape extradition to Sweden over accusations of sexual assault dating back to 2010.
Charges of sexual molestation and unlawful coercion were dropped in August, 2015, however the more serious accusation of rape still stands.
Assange has always denied all allegations against him.
He says if he goes to Sweden to answer the rape charge, the US will have him extradited.
An American investigation into Wikileaks, is underway. In 2010, US Attorney-General Eric Holder stated there was "an active, ongoing criminal investigation" into the company.