Portugal's Sampaio da Nóvoa sets sights on the presidency
Comments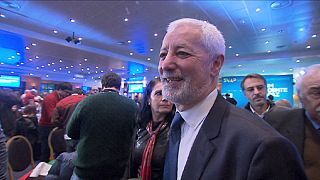 Antonio Sampaio da Nóvoa wants to reset Portugal's political clock if he is elected president on January 24.
The independent candidate wants to end austerity and debt restructuring.
I'm not pushing for a break with the European Union. I'm not saying we shouldn't pay unilaterally our debt, but I do want us to have solidarity in the European Union that allows southern countries, which have problems, to find realistic and pragmatic solutions, to solve the debt problem, which is suffocating our capacities to grow, to develop and to maintain the welfare state," he told euronews.
The independent candidate, who has the support of major socialist personalities, like former Portuguese president Mário Soares, is very critical of the bailout program that his country ended on 2014.
"This ideological fundamentalism, which saw Portugal used as a guinea pig for certain experiments of the IMF and other groups, proved to be a disaster, a catastrophe for our country and today almost everyone recognises that, from the IMF to the European Union," said Sampaio da Novoa.
Sampaio da Nóvoa praises the anti-austerity measures taken by the new left government and told euronews he hopes it will continue in power till the end of its mandate.
"I don't know (if government will survive). No one knows, but I hope so. I believe so and if I'm elected president, I'll do everything, in order to make that happen, as I would do if it was another government, with another parliamentary majority. The role of the president is to try to ensure the government's stability."
Another power of the president concerns the ratification of international treaties. Sampaio da Nóvoa promises to put forward compromises that can reduce the sovereign powers of the country to a public debate and even to a referendum.
"I want Portugal to be prepared to face all decisions taken about Europe. I'm in favour of opening the country and all freedoms, in the European treaties, in the transatlantic treaties, in the treaties with Mercosul, in the treaties that open Portugal to the world, but we can't naively open ourselves. We have to be prepared for that, for that competition and for that work," he said.
The campaign for the presidential election is a political debut for Sampaio da Nóvoa, who was the rector of the University of Lisbon between 2006 and 2013, but the polls don't give him much hope of causing an upset.
Our correspondent Filipa Soares said: "Sampaio da Nóvoa promises to be a president of causes and has already chosen them: to fight unemployment, social inequalities, the brain drain and the depopulation of Portugal's interior."