Rebelo de Sousa: the pundit leading opinion polls in Portugal's presidential election
Comments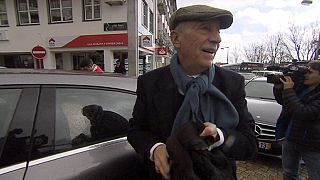 Advance polls favour Marcelo Rebelo de Sousa to win Portugal's January 24th presidential election. He has managed to convert his years of popularity as a political commentator on television into campaigning momentum.
Rebelo de Sousa is not an official candidate of Social Democratic Party (PSD) – which he helped to create – but he can count on its support as well as that of the People's Party (CDS-PP). If the centre-right candidate does win the contest, he will work with a government put together with all the left-wing parties' support.
While between stops on the campaign trail, the former PSD leader told euronews that, if elected, he will to try to build bridges between the factions that grew out of the last political crisis.
Rebelo de Sousa said: "Without renouncing my ideas, I'll try not to discriminate. I won't create any problem, any instability, any criticism of government action. I will try to keep the basis of support for the government intact. As we know, that base is very complicated, established on agreements within the parliament."
Euronews' Filipa Soares caught up with the candidate on the campaign trail.
Soares: "What do you think about the measures taken by this government, namely to reduce austerity?"
Rebelo de Sousa: "On one hand they seem very fair to me. Because the Portuguese people, inevitably, have suffered a lot in the last few years, to overcome the country's financial situation. It was not possible to impose more sacrifices like the ones they have faced. On the other hand, the measure require a lot of balancing to avoid financial slippage."
Soares: "You've said you want to be a referee as president. In what situations could you show this government a red card?"
Rebelo de Sousa: "In my interpretation of the constitution, the dissolution of parliament is justified if there is a serious crisis in the smooth functioning of the institutions: the government with parliament, the government with the courts, within the government or the government with the president.
Soares: "You are not afraid of disagreements between the parties, on various issues?"
Rebelo de Sousa: "Clearly, this government has two difficult challenges. One is to achieve social justice without financial slippage. The other is to avoid problems in its political support base. I expect this; I want this. I will work to avoid a crisis in the government's support political base, because that would mean a new political crisis."
Rebelo de Sousa has been campaigning very informally. As a former journalist and TV commentator, he is very aware about what works for the media, and he is conscious of every phrase and gesture.