Maria de Belém puts socialist strife aside to focus on presidency bid
Comments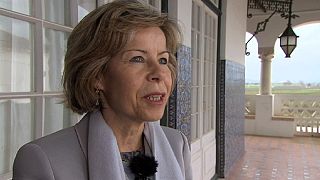 Maria de Belém was the first woman to preside over the Portugal's Socialist Party (PS), between 2011 and 2014, but she is not its official candidate for the presidential election.
It's no surprise as she backed the rival of the current PS secretary-general António Costa, who told socialists to vote for her or for the independent candidate Sampaio da Nóvoa.
"I've always said that I agree with that position, because that underlines the independence of the candidacies, as an act of citizenship. So, it's very peaceful."
But she has the support of some socialist members, like the current Culture Minister João Soares, son of the former president Mário Soares. But his father is behind another candidate.
"My priority is to invest in the prestige of the country. I think it is absolutely essential to do so and one of the weapons we have to achieve this objective is scientific diplomacy," said Maria de Belém. "We have to show the big strides we've made in the fields of science and research; that's fundamental to being recognised and to earn the respect of those observing us from abroad."
Concerning international relations, Maria de Belém promises to defend the interests of Portugal in an European Union she accuses of having forgotten some of its founding principles.
"I think it is absolutely essential to have a strong voice in order to uphold the principles of solidarity, the social market economy, to reduce inequalities. Nowadays much of the original European project has been forgotten and we need to properly defend the interests of Portugal," she added.
On the domestic front, Belem wants to defend those without a voice and promote equal pay for men and women.
"I intend to call on civil society to support these causes, because of course they must be integrated in a competent and effective public policy program, but, in addition to public policies, each one of use has a responsibility to intervene."
Social intervention has always been a priority for Maria de Belém. The former health and equality minister is also very concerned about the situation of Portuguese people, who have been facing strong austerity measures.
"We have a very divided society, at the moment, it's fractured and there's a lack of social cohesion and when there's a lack of social cohesion there's a lack of everything else."