Ullevalseter dominates Africa Eco Race
Comments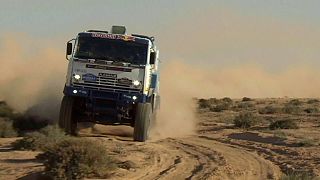 Stage five of the Africa Eco Race saw the competitors spend a final day in Morocco.
The 453.8 km trek from Remz el Quebir to Dakhla and riding high on the motorbikes, Norway's Pal anders Ullevalseter he made it five wins out of five to totally dominate the race.

Paul Ullevalseter lidera el África Eco Race 2015-16 https://t.co/uSsug1HYWC…/ pic.twitter.com/xJ92sYCZcP

— enduromagazine.com (@enduromagazin) December 31, 2015
ULLEVALSETER vainqueur de l'@Africaecorace#moto ! http://t.co/YhUL0RCHaGpic.twitter.com/lDdll1e8s8

— journal des motards (@jdmotards) January 11, 2015
In second spot Kazakhstan's Yevgeniya Nesterova.
She finished ahead of Portugal's Jose Sousa.
Ullevalseter leads overall with Russia's Anastasiya Nifontova in second place.
In the cars more Kazak success with the Toyota of Kanat Shagirov Vitaliy Yevtyekhov winning the stage.
The Russian pair of Anton Grigorov and Roman Elagin came home second.
Kanat Shagirov and Vitaliy Yevtyekhov lead the race overall.

MAURITANIA / Best DESERT TOURISM DESTINATION / Great ARABIAN DESERT in WEST AFRICA pic.twitter.com/c4w7ql6W29

— TRAVELS WORLD (@travelsworld1) December 28, 2015
Sunday is a rest day before picking up again on Monday this time in Mauritania.

Africa Eco Race 2016: el verdadero espíritu del Dakar https://t.co/j8Jxwdi2wMpic.twitter.com/o3t3kLJ5ea

— DM Competición (@diariomotorcomp) December 30, 2015