Africa Eco Race: Reigning champions shine on stage four
Comments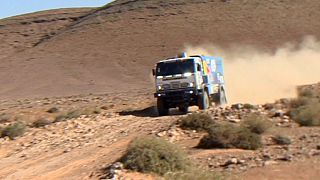 Day four of the Africa Eco Race was a day for the reigning champions.
Bikes title holder Pal Anders Ullevalseter of Norway took stage four honours on his KTM for his third straight win.
He completed the 409 kilometre stage from Assa to Remz El Quebir in Morocco just over 14 minutes faster than second placed Frenchman and teammate Norbert Dubois.
Britain's Andrew Newland is in consistent form and celebrated his third straight third place finish.
Reigning car champ Jean Antoine Sabatier of France steered his Bugga One to stage four victory.
Compatriot Pascal Thomasse took second in his Optimus MD while Kanat Shagirov of Kazakhstan made his third podium from the opening four stages with a third place finish.
Shagirov now leads the cars in the general standings eight minutes and 44 seconds clear of Thomasse.
And finally completing the day of reigning champs was Russian Anton Shibalov who made it three wins from four in his Kamaz truck.
At a total of 695 kilometres Saturday's stage five is the longest so far and takes the competitors to Dahkla in Western Sahara.