Ullevalseter continues to set the pace in Africa Eco Race
Comments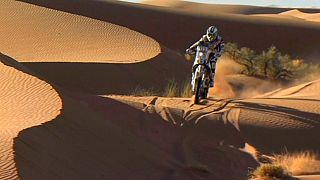 Defending bikes champion Pal Anders Ullevalseter continued his perfect start to the Africa Eco Race.
The Norwegian backed up his stage two victory by winning the 451-kilometre timed special for stage three, which took the competitors from Tagounite to Assa in Morocco's Assa-Zag province.
He was 12 minutes and 49 second faster than Russian Anastasiya Nifontova riding her Husqvarna.
Britain's Andrew Newland kept himself well in contention following his second straight third place finish on his KTM.
He was just over 28 minutes off the pace.
It was the second day of action for the Bikes after safety concerns ruled them out on the opening day but the cars and trucks were competing in their third challenge of the eighth edition of the race.
Yuri Sazonov enjoyed his second stage win from the opening three legs to extend his lead at the top of the overall standings in the car category.
The Kazakh Hummer driver completed the leg just over three minutes clear of second placed Pascal Thomasse of France.
Optimus MD driver, Thomasse, was, in turn, one minute and fifteen seconds faster than Sazonov's compatriot Kanat Shagirov who steered his Toyota to the third step of the podium.
Defending trucks champion Anton Shibalov of Russia celebrated his second straight stage win.
The Kamaz man tops the trucks standings ahead of compatriot Sergey Kuprianov who was second on the day.