Africa Eco Race: Reigning bike champ Ullevalseter wins stage two
Comments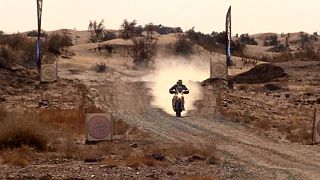 After missing stage one due to safety concerns the Bikes finally made their bow in the eighth edition of the Africa Eco Race on Wednesday.
Defending champion Pal Anders Ullevalseter laid down the marker winning stage two, which took the competitors from Jorf El Hamam to Tagounite in Morocco.
The KTM rider was followed by Italian Stefano Chiussi while rounding out the stage podium was Britain's Andrew Newland.
Fourth fastest over the 313km timed special was Russian Dmitry Agoshkov.
Mathieu Serradori claimed the stage win in the car category.
The French Proto driver is now second in the overall standings behind leader and stage one winner Yuriy Sazonov of Kazakhstan, who steered his hummer to second on the dune-filled day.
Sazonov crossed over one minute and 28 seconds behind Serradori.
Completing the top three in the car category was Russia's Anton Grigorov in his OSC.
It was another Russian, Kamaz one-two in the trucks, but in reverse order from the day before.
This time reigning champ Anton Shibalov took first ahead of compatriot and stage one winner Sergey Kuprianov.