Syrian soldiers fight their way into strategic southern rebel-held town
Comments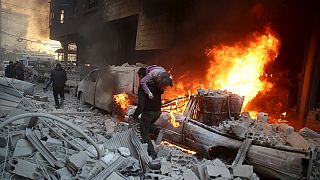 For President Assad's soldiers, Russian air power has made all the difference.
Syria's military say its troops have fought their way into the strategic southern town of Sheikh Miskeen in Deraa province, making key gains from rebels.
The Assad regime said its troops were in the main square and had taken over the eastern and northern neighbourhoods of the town which lies on a major supply route from Deraa to the capital, Damascus.
A rebel source confirmed Syrian soldiers had entered parts of the town and said fierce clashes were raging.
Insurgents in Sheikh Miskeen have not only been attacked on the ground but also, they say, from the skies in what the rebels are calling the heaviest Russian aerial bombing campaign so far in the south.
Russia, which did not confirm the strikes, and has up to now concentrated on the northwest and coastal areas, says it is primarily targeting hardline ISIL fighters.
Washington and other regional powers have regularly accused it of striking other anti-Assad rebel groups, seen as more moderate, that some in the West hope will form part of a future settlement of the near five-year war.
From Idlib province in the north, more than 300 pro-government fighters and civilians – trapped in villages surrounded by rebel-held territory – have been evacuated under a UN-sponsored agreement brokerered by regional powers.
Arriving in Damascus, one woman said:
"It is a great joy but we are very upset about our family that we have left behind. We hope they open the way for them and let them out. That way, our joy will be greater."
Amid the chaos in Syria, the road to Damascus was a long one.
The evacuees were first given safe passage to neighbouring Turkey before flying to Beirut and then travelling onto the Syrian capital.
Air strikes believed to have been carried out by Russian warplanes killed scores of people in Idlib city on December 20.
Russia's bombing of Syria may amount to a war crime because of the number of civilians its strikes have killed, Amnesty International said last week, presenting what it said was evidence that the air raids had violated humanitarian law.
#Russia's attacks on civilians in #Syria may amount to war crimes. https://t.co/MOB3hK3gBLpic.twitter.com/jQd68gdq2L

— AmnestyInternational (@amnesty) 23 Décembre 2015
Moscow denies hitting civilian targets since starting its aerial bombing campaign in Syria on September 30.