Two arrested over Brussels New Year plot
Comments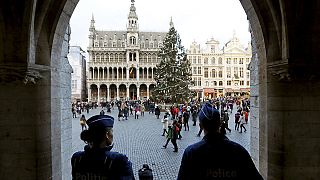 Belgian police have arrested two men suspected of plotting attacks in Brussels on New Year's Eve.
Multiple police raids across the country on Sunday and Monday revealed the threat of serious attacks on landmark sites during end-of-year celebrations.
The two suspects were arrested following searches in Brussels, Liege and the Flemish region of Brabant.
Police found military clothing and ISIL propaganda but no weapons or explosives.
A source close to the investigation said Brussels' Grande Place – a central spot popular with tourists and locals – was one of the suspected targets, and police and army patrols have increased across the capital.
Earlier this month Brussels police arrested a Belgian national in connection with the November attacks in Paris. The country's federal prosecutor's office said Tuesday's arrests are not connected to the Paris attacks.