Belgium seeks answers over its apparent status as a spring board for Europe's jihadists
Comments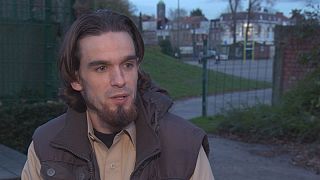 Since the Paris attacks soldiers and police have flooded the streets of what is in effect Europe's administrative capital in neighbouring Belgium.
Nobody cared, everybody looked the other way and now we are paying the price for that.
Brussels has been on the highest alert, fearing a similar deadly assault on its citizens. For people living in the city these are confusing and worrying times.
"I have never seen my city like this. You never imagine soldiers running around the streets you live in," said community activist Youssef Kobo. "When you think of a city under siege, you think of countries abroad, countries in the Middle East, never your own backyard. it's weird. I don't know who we can blame. It's very confronting how just a couple of individuals can take a whole continent hostage."
It's a good question, because it does look like a siege. In Belgium, it's prompted a collective soul-searching as once again, fingers are pointing at this nation of just 11 million people and whispering that it is a breeding ground for Europe's jihadists or terrorists.
Those behind the Paris attacks included brothers Salah and Brahim Abdeslam. They were both from Molenbeek, a district not far from the centre of Brussels. And of course the mastermind of the Paris terror, Abdelhamid Abaaoud=, was also from Molenbeek.
But they're not the only ones. From last August's attempt on board a train and shoot passengers, to the Jewish museum killings and the 2004 Madrid bombings, there have been links to this Belgian district.
Youssef Kobo believes the signs of vulnerability in Molenbeek were always there, but the authorities chose to overlook them.
"Molenbeek is also a place that has been plagued by poverty, plagued by unemployment, by discrimination, by police brutality but also incompetent local government. Many activists inside of Molenbeek have been complaining, have been trying to put these issues of poverty, of unemployment but also of radicalization on the political agenda for decades but nobody has been listening. Nobody cared, everybody looked the other way and now we are paying the price for that."
Molenbeek's large immigrant population dates back to the 1960's when a large wave of mostly Moroccans came to work in the city they nicknamed "little Manchester."
Today the unemployment rate is 30 percent. And critics claim some of its population of 90, 000 has grown increasingly religious and intolerant towards non-Muslims.
But the big concern is how did it get to this point? Why are some of the 500 Belgian jihadists who left for Syria either from Molenbeek or had spent time there?
Thierry Limpens is a teacher. He wasalso head of the first Muslim school in Molenbeek. He says 40 percent of the city's population is under the age of eighteen.
"What I've sensed over the past 20 years is that young people from the district, when they're in schools and when there's a global problem, such as, Palestine and Israel, then they're affected. They're injured, they're affected. That's one thing. And then they feel exposed and there's stigma, and they come to school in an agitated state. We're talking about a young generation brought up with the internet in their rooms and there it is – they start to become radicalised in Molenbeek – but they're not really in Molenbeek – they live in their head and they're already in Syria and they watch propaganda videos and imagine themselves in Syria . They believe in it and you know what propaganda is always beautiful. You only show the good side".
Younes Delefortrie spent time in Molenbeek but he's from Antwerp. He went to Syria in 2013 and was arrested when he came back six weeks later. The former member of Sharia4Belgium was given a three year suspended jail sentence. Sharia4Belgium's leader had been accused of radicalising young Belgians and sending them to Syria.
Delefortrie has written a book about his life as a jihadist.
"I will say what I say to everybody: I am not responsible for the acts of others . I am not responsible for spilled blood everywhere in the world. Those guys who came here to attack what they say in the media are innocent people, they came here with a reason, a reason why. And reason why is that they are attacking people in the Islamic world, in Syria, Iraq, Mali, whatever country France for the moment is putting its hands and its guns in. They came here for revenge. Is it a good thing? I don't say it's a good thing because as I say, spilled blood is spilled blood, but we have to understand that it did not just happen because. It happened for a reason."
Imams in Belgium preach the tolerance of Islam, but Cheick Abdelhadi Sewif from Brussel's Grand Mosque, says in a digital world, some Muslims are not listening to him and other moderate Muslims.
"I've been to Molenbeek, and I've visited several mosques in Molenbeek, and I preached a few times Molembeek, advising young people there and in other cities to maintain the moderate and tolerant Islam. But there are exceptions. There are people, above all, they were not informed by officially recognised religious institutions, and this is a point that everyone should take on board. They're informed by websites. They don't take my advice or guidance from others because to them they are poisonous ideas because I, to him, I'm not Muslim. Because I, in his eyes, and all the imams in Belgium we are not Muslims".
For many Belgiums both within and outside the Muslim community, peeling back the layers of reasons as to why their country has produced or harboured so many of Europe's jihadists will take a long time.
Although today, Michael Younes Delefortrie lost his job as a baker because, he believes, of the negative attention he was drawing, Deleforterie has no regrets about going to Syria.
" First of all, I didn't do anything wrong," he says. "Maybe I can blame myself only for coming back because I had a life there. Here all I do is give interviews and write a book to try and explain. I try to be happy but it's not easy because my life is bordered, with a lot of borders."
For now Younes cannot travel abroad. But how to deal with him and others who have returned from Syria will remain a key challenge not only for Belgium but for all of Europe.