Yemen peace talks underway at secret Swiss location
Comments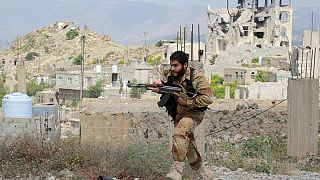 As peace talks between warring sides in Yemen got underway, a temporary ceasefire was due to come into force.
It's hoped the UN-backed talks in Switzerland will clinch a permanent truce and bring an end to months of conflict between Iranian-allied Houthi rebels and a Saudi-led Arab alliance.
Caught up in the fighting are the local residents.
"As you can see, there are lots of damaged homes around us and their residents have fled," said one man. "Some have fled to the countryside, some have fled the country all together, and some have fled to other cities. This neighbourhood has become a ghost town. There is no one that can provide relief or record the damage or record anything."
The latest talks come after several broken ceasefires and failed attempts to end the conflict.
More than two million have been forced to flee their homes.
The UN says half of the nearly 6,000 people killed in the fighting and air strikes are civilians, including 637 children.