Turkey and Russia hold first meeting since fighter-jet shooting
Comments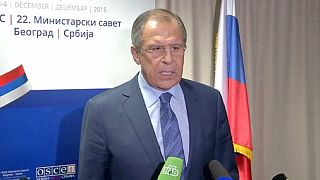 The OSCE ministerial conference in Belgrade, Serbia, set the stage for the first face-to-face meeting of high-level Russian and Turkish officials since the Turkish air force shot down a Russian jet just on November 24.
Ankara says the fighter bomber violated its airspace near the Syrian border, despite Russia being repeatedly warned.
Moscow denies this. It has branded the incident a war crime and has since slapped retaliatory sanctions on Turkey, including bans on some food imports from the country.
Russian Foreign Minister Sergei Lavrov said he had heard "nothing new" from his Turkish counterpart.
"We met Minister Cavusoglu at his insistent request," he said. "We heard nothing new. The Turkish minister confirmed the approaches previously voiced publically by both the president and prime minister of Turkey."
Turkish state broadcaster TRT quoted Foreign Minister Mevlut Cavusoglu as highlighting the importance of keeping an open line of communication with Russia, although he reportedly said it would be unrealistic to expect all problems to be solved after just one meeting.
Cavusoglu told the press:
"We once again expressed our sorrow, as both our president and prime minister had done previously. We offered our condolences for the repatriated pilot and Minister Lavrov thanked us for our help. It is perfectly normal that we have differing opinions in a situation like this. But we sincerely, genuinely and very clearly explained all of these to each other."
Prior to the downing of the jet, the two nations had been on civil terms. At a meeting during the G20 summit in November, 2015, the Russian and Turkish leaders agreed to extend a pipeline project which will supply natural gas to Turkey and Europe.