Belgium to maintain high security alert for another week
Comments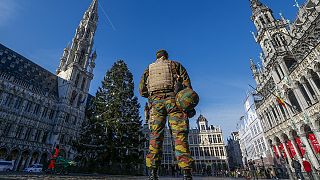 Belgian police have charged a fourth man over the deadly attacks on Paris. The terrorism suspect was one of 16 people detained on Sunday. The rest have all been released without charge.
Prime Minister Charles Michel says the country will also be maintaining its highest security level for at least another week.
"We'd like to make every effort to progressively regain a normal life, while staying vigilant. It means that we decided that schools would reopen on Wednesday while complementary security measures will be put in place around the schools; and the metro will also reopen on Wednesday," he said.
Universities, schools, shopping centres and the metro system were all closed on Monday, for a third day, as security forces patrolled an eerily quiet Brussels.
Unsurprisingly, many people are alarmed and scared by the state of emergency.
"I'm feeling a bit under tense, yes, but on the other hand I also feel secure. There is sufficient police and army around so that's fine," said one man in Brussels.
As the city tries to deal with the threat of a terrorist strike, authorities have urged people to remain calm but vigilant.