ISIL threat is 'a wake-up call for Europe', says leading defence expert
Comments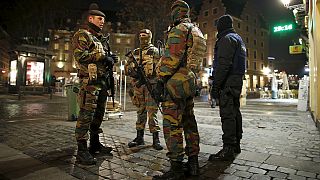 Euronews asked Serge Stroobants, Brussels representative at the Institute for Economics and Peace, for his assessment of the current terror threat in Belgium.
Stroobants, a security and defence analyst based in the Belgian capital, is also a professor in the international affairs faculty of Vesalius College.
"I think there is an imminent threat, a clear threat. The policy makers and deciders have very good information about people out there that want to harm us and this is why it went to level 4," he told euronews.
"I think that Europe now realises that we stop to live on a peaceful continent. This has been the case for the last 70 years. Threats (now) are all over the place. Threats are in the east. Threats are in the south. Maybe other places. and threats are influencing directly also Europe. We have seen this through the refugee crisis – which is not a threat as such, but it's happening in Europe today and we see it now with terrorist attacks in our capitals. I think that's a wake-up call for Europe to realise that it can happen also here in our resilient societies!"
Euronews: Some people say that this terrorist threat from so called Islamic State is more of an 'idea' – and no amount of tough security measures can ever kill an idea. How can we deal with that?
Serge Stroobants, Institute for Economics and Peace: "Terrorism is in fact a tactic or a technique to influence policy makers and the population. So you will never fight a war against a tactic or a technique. I think that we need to be present both in our societies – taking care of inequalities, injustice, here in Europe and fight against radicalisation in our societies. We need also to be present abroad. we need to take care of the imminent threat. The direct threat that ISIS is posing to us. So a military intervention is, I think, one step that we have to take, to take care of such an organisation. But we also need to intervene, or at least to support, nation building – to create resilient societies also within Europe se we will be able to live again in a more peaceful society in the future."