Caviar, but no body, found in speeding hearse in Russia
Comments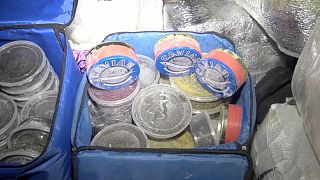 An unusual discovery was made when police pulled over a speeding hearse on a Russian motorway.
Half a tonne of caviar was found in the vehicle, some of which was inside an otherwise empty casket.
Two men in the hearse insisted they knew nothing about the stash, claiming a man in a village outside Khabarovsk had hired them to take the body of a female relative to a nearby morgue.
Caviar production is strictly regulated in Russia.