Palestinian security forces unable to stop youths setting fire to Joseph's Tomb in Nablus
Comments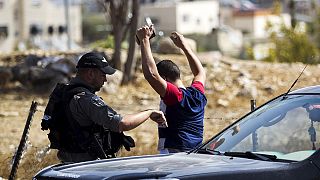 Enraged Palestinian youths have attacked Joseph's tomb in Nablus, one of the Jewish faith's holiest places, and set it on fire before being pushed back by Palestinian security forces.
It is not the first time the site has been attacked. The last time was in 2011. It is the latest indication that despite the huge increase in security in Israel, which has also seen a massive surge in gun sales to individuals, popular Palestinian discontent with Israeli policies is not dying down. Hamas has called for a "day of rage" today.
There has been criticism of Israel both at home and abroad that a refusal to restart peace talks, and concessions made to the the religious far-right have created the current climate, but the prime minister has dismissed accusations his police forces are being too heavy-handed.
"Israel is using exactly the kind and the amount of legitimate force and that any one of those governments, those municipalities and those police forces would use if they had people wielding knives, meat cleavers, axes, trying to kill people on their streets," said Benjamin Netanyahu.
While Benjamin Netanyahu appears unable to contain his far-right coalition partners from making mischief, the same appears true for the Palestinian leadership. People are ignoring President Mahmoud Abbas's calls for calm. He appears increasingly irrelevant on the streets.