Clashes escalate in Gaza and the West Bank as Israel mobilises soldiers to help police
Comments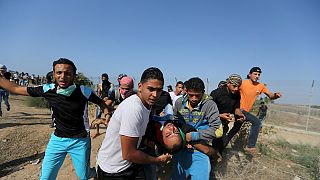 At least five Palestinians were killed by Israeli security forces on Friday, two on the border with Gaza and another three on the West Bank. One of these incidents took place when a man approached soldiers disguised as a journalist and stabbed one of them. Bethlehem and other West Bank locations saw running clashes with police
It has been a day of rising tension with fears the already fraught situation is about to deteriorate further, with Fatah militants and the al-Aqsa Martyrs Brigades saying they will ignore any calls for calm or agreement made with Israel by the Palestinian leadership.
Youths also attacked the Jewish hold shrine of Joseph's tomb in Nablus, setting it on fire before they were repulsed by Palestinian security. Militants also staged an armed show of force in Jenin, shooting into the air.
In Jerusalem 300 soldiers have been deployed to help police enforce their security crackdown. It is the largest military policing operation since 2002.
The stabbing incident took place in Hebron, and after the attacker was killed Israeli security forces were unprepared to take any more risks, and opened fire on other people wearing press identification, forcing them to scatter.