Israel defends 'aggressive' security measures
Comments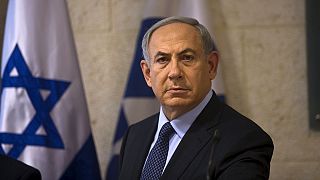 Israel has continued to tighten security across the county in response to a surge in shootings and stabbings.
Roadblocks have been put in place virtually sealing off Palestinian neighbourhoods in East Jerusalem and security forces have been deployed on city streets.
The decision to take what Prime Minister Benjamin Netanyahu called "aggressive" measures to quell a month-long unrest has been defended by the Israeli leader.
"Israel is using exactly the kind and the amount of legitimate force and that any one of those governments, those municipalities and those police forces would use if they had people wielding knives, meat cleavers, axes, trying to kill people on their streets. What do you think would happen in New York if you saw people rushing into crowds trying to murder people? What do you think they would do?"
While Jerusalem was quiet on Thursday there were more clashes in the West Bank.
So far eight Israelis and 32 Palestinians have been killed in the violence which began last month. The unrest, the most serious in years, has been triggered in part by Palestinians' anger over what they see as increased Jewish encroachment on Jerusalem's al-Aqsa mosque compound, which is also revered by Jews as the location of two destroyed biblical Jewish temples.
US Secretary of State John Kerry has said he plans to travel to the Middle East soon to try to calm the violence.