UN desperately seeking solution to refugee crisis
Comments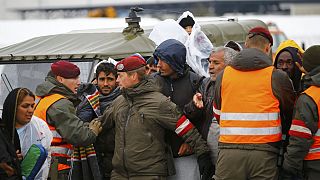 As the world faces its worst refugee crisis since World War II UN Secretary General Ban-Ki Moon has convened a meeting on migration and refugee movements on the sidelines of the UN General Assembly.
Ban Ki-moon discussed response to refugee & migrant crisis at meeting with @EU_Commission: http://t.co/PNZwr05RhXpic.twitter.com/UNRb5xixzM

— UN Spokesperson (@UN_Spokesperson) September 27, 2015
Mr Ban called for an end to prejudice and scaremongering and demanded greater diplomatic efforts to end the war in Syria.
Hungary has been in spotlight as thousands of asylum seekers have poured across its borders.
Orban non è un santo, ma non è nemmeno il diavolo http://t.co/p8zGvUPuY1pic.twitter.com/aULwgEDXeo

— TEMPI (@Tempi_it) September 18, 2015
The country's prime minister Viktor Orbán believes the influx bodes ill for Europe: "At the Hungarian borders, they are coming from Syria, Iraq, Pakistan, Afghanistan, and most recently from the Sub-Saharan region. Let me make it absolutely clear, Europe will not be able to carry this burden on her own. If there is no change in the current trend, Europe will be destabilised."
Turkey's border with Syria is alive with people fleeing the conflict.
Why are some Syrian refugees leaving Turkey? Growing hostility, war on Kurds, limited schools. http://t.co/7h0GI65l7Qpic.twitter.com/Pi8laJx8P9

— Kenneth Roth (@KenRoth) September 30, 2015
Turkish Prime Minister addressed the meeting Ahmet Davutoğlu:"The total number of Syrians in Turkey is now over 2 million. In camps, we are hosting close to 260,000 Syrians. In some Turkish cities on the border, now Syrians are more than Turks. In Kilis, for example, the percentage of Syrians are 54 percent, and Turks became minority."
Despite the general concern the UN high commissioner for refugees Antonio Guterres has called for $4bn to deal with the crisis, so only 40 percent of the total has been reached.
Everyone should read what this man has to say about the refugee crisis http://t.co/1QnOO9aqeepic.twitter.com/9f4dTO1I3Y

— i100 (@thei100) September 27, 2015