Sepp Blatter quizzed by Swiss prosecutors
Comments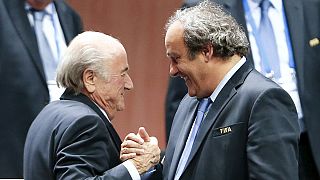 Sepp Blatter is under investigation by Swiss prosecutors probing alleged criminal activity at football's world governing body, Fifa.
The Office of the Attorney General of Switzerland confirmed in a statement that proceedings had been opened, "on suspicion of criminal mismanagement ..and – alternatively – misappropriation". against the 79-year-old Fifa president.
The investigation centres on two payments one to Jack Warner in 2005 who was the then president of the Caribbean Football Union and a "disloyal" payment to UEFA president Michel Platini the leading candidate to take over from Blatter.
Under Swiss law, a payment is classified disloyal if it is against the best interest of the employer – in this case Fifa. Both payments allegedly amount to millions of euros.
The news broke shortly after Fifa unexpectedly cancelled a press conference at its Zurich headquarters at which Blatter was due to speak.
Fifa confirmed that its HQ had been searched and data seized. It refused to comment further on what is seen a day of dramatic developments for the game's power brokers.