Sepp Blatter under criminal investigation
Comments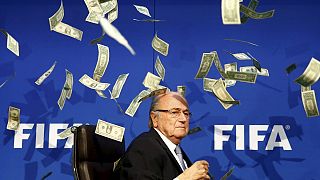 The Swiss attorney general has opened criminal proceedings against Sepp Blatter on suspicion of criminal mismanagement and misappropriation of FIFA funds.
The outgoing president was due to host a press conference following a two-day executive committee meeting. It was first delayed by an hour and then cancelled altogether less than five minutes before it was scheduled to start.
The 79-year-old is the subject of a two-pronged criminal investigation by the Swiss attorney, and one of the allegations is that he made "a disloyal payment" to UEFA president Michel Platini in 2011.
The former French international, who is currently the front-runner to replace Blatter, has denied any wrongdoing so far and told journalists the payment relates to work which he carried out under a contract.
On yet another dramatic day for Blatter in Zurich, FIFA also confirmed that the 2022 World Cup in Qatar will start on November 21 and finish on December 18.
The decision to shift the tournament to winter will have a huge impact on numerous domestic divisions, including the Premier League, which contains a busy schedule over the festive period.
The competition, which will last just 28 days instead of 32, will be the shortest since the competition switched to a 32-team tournament in 1998.