Blatter...with resignations timing is everything
Comments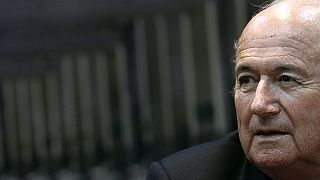 Sepp Blatter's re-election has turned out to be a somewhat pyrhhic victory. For the man in power since 1998 to leave now means that something behind the scenes must have forced his hand.
It appears the metaphor of the captain that won't abandon his ship has worn thin as a US probe into bribery closes in.
A New York Times article on Monday may have been the straw that broke the camel's back. It states that Jérôme Valcke, Blatter's top aide, is the 'high-ranking FIFA official behind a 10 million dollar transaction crucial to securing South Africa's right to the host the 2010 World Cup which is at the heart of the US investigation.
Just one week earlier, the arrest of a dozen FIFA officials on corruption charges, wasn't enough to push Blatter from his post but could be the seen as the first signs of trouble.
Coming just two days before the presidential vote, the probe looked into corruption allegations dating back some 25 years.
Blatter's sudden departure has thrown the status of World Cup hosts Russia and Qatar into doubt. Many of the allegations FIFA concern the awarding of the tournament to the respective countries in 2018 and 2022.
Both bids have been mired in allegations of bribery since they were won. If either is stripped of the contest, England would be among the favourites to replace them.