Exhausted and confused migrants board trains they hope will get them closer to Germany
Comments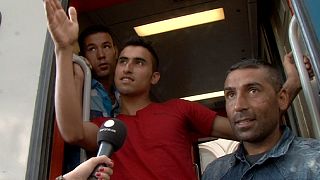 Exhausted and confused, many migrants have crammed onto trains they hope will them closer to Hungary's border with Austria but they're not really sure where they're headed.
"First we got on that train, then they said no it is not going there, this train will go, we are suspicious if this train goes or not, we are just waiting," said one young man our correspondent spoke with.
When asked, "are you sure that this train is going to Austria?," another man said "I don't know .. people said it is going to Győr [city in Hungary], and we'll try to go to Austria."
Another unnamed man said: "I've just heard it from the people there is no international train to any part of the European countries."
Trains to Vienna any on to Germany have been cancelled. It's not clear what would be the next stop for the migrants – many of them refugees from wars in the Middle East.
"The railway company is telling the passengers in English that there are no trains to Western Europe, but those who have already boarded trains don't want to get off," said a euronews correspondent. "They hope that somehow they will get to Austria or Germany."