Hungary: Keleti station opens to migrants
Comments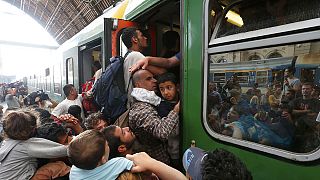 The authorities in Hungary have opened the main train station in Budapest to migrants.
International services, however, remain suspended.
However, chaos and confusion remain as people try to board any train that is leaving.
I asked policeman in train when it wld leave. 'Soon'. Where to? 'I don't know. Surprise!' #keleti#refugees#hungarypic.twitter.com/X4aVMme5wK

— Lindsey Hilsum (@lindseyhilsum) 3 Septembre 2015
Hundreds of men, women and children have spent the last two days camping outside Keleti station, waiting to get onward rail connections to Western Europe, primarily Germany.
Local trains are heading to towns near the border with Austria.
One train has reportedly stopped at Bitske, where there is a migrant reception facility.