'It's called the route of death': up to 200 migrants feared dead off Libyan coast
Comments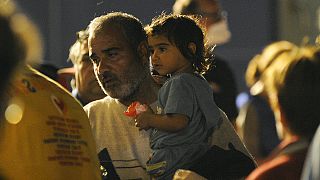 Powerful images have emerged, showing a tragic end to a journey being labelled the "route of death."
Up to 200 migrants are feared perished after a boat capsized off the Libyan coast.
A security official said the vessel had some 400 passengers on board, mainly of African origin.
The Libyan Coast Guard said it managed to rescue around two hundred and one people from the boat, which was discovered in trouble off the coast of Zuwara.
Approximately 147 were taken back to the port city to a detention facility for illegal migrants.
Syrian Ayman Tallaal was among those saved.
"We sank in the sea," he says. "The boat was in bad condition and people died around us. The Libyan Coast Guard saved us, may God bless them. We were forced to take this route. It's called the route of death. Now it's called the grave of the Mediterranean Sea."
A day earlier, at least 51 bodies were found in the hold of a boat off the Libyan coast during a rescue operation which saved around 430 others.
A Swedish ship working with the European Union's border control agency Frontex, carried out the rescue operation and brought the victims and survivors to Sicily.